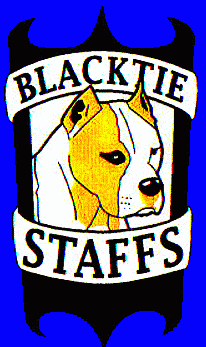 *THE BOYS*
---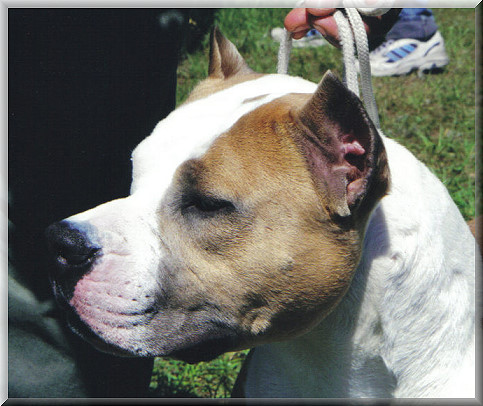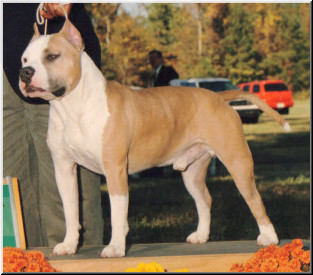 BIS Ch Jacques Little Golden Boy CGC TT
*Beamer*
Beamer is the first Am Staff to go Best in Show in Florida. Ranked #3 in systems 1 & 2 for 1999. Multiple BIS, Multiple Group winner! He did it the hard way- he EARNED it! Limited showing! No big time handler, and large breed entries. Beamer did it competing not only against the top amstaffs, but the top terriers in the country and still consistantly placing in the group ring. His strong breed type, structure and show stopping attitude was evident the moment he stepped in the ring. At 7 months old, he took breed over an entry of 21 his first time out. In limited showing, Beamer was ranked #1 in systems 1 and 2 in the southern region in 2000 & 2001. He was #3 and #4 Nationwide in 2000 and 2001 in breed and group points. He has 2 All-Breed Best In Shows and still the only amstaff to go Best In Show in Florida, winning over 1900 dogs. He has 13 Group 1, 41 Group placing, all owner-handled. He is sire of a BISS winner and top 10 dog, with multiple champions from very limited breeding. Beamer is a great dog and possesses the finest temperament you could ever want in a dog and is the greatest representative of the breed.
---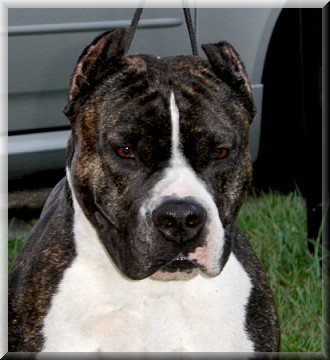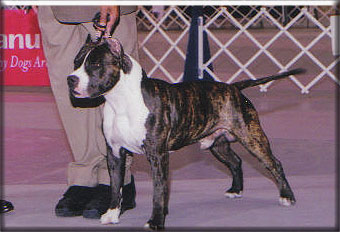 Ch. Blackties War Admiral
*Heffner*
Heffner is the latest owner handled home bred champion. Heffner is an impressive young dog which possesses a wonderful temperament combined with intelligence,bone,and substance. Heffner makes his presence felt finishing his championship quickly including a BOB win from the classes over a multi breed winning special
---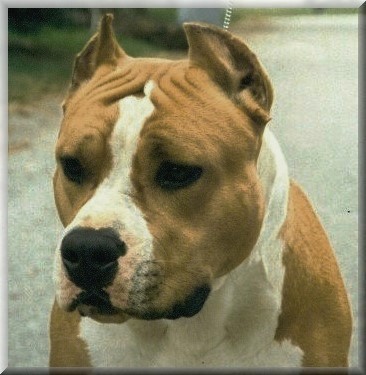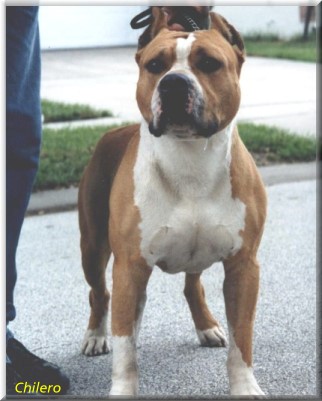 Little Oaks Jacques Chilero
*Chilero*
Chilero is my foundation dog , and was never shown due to a serious injury as a pup. Chilero is everything an amstaff should be. Chilero possesses a sweet outgoing personality and has never met another person or animal who he didn't try to befriend. Chilero has large round bones tremendous head and breed type all wrapped up in an easy moving functional package. He is a proven sire of a multiple BIS dog, Multiple group winners and multiple champions. Chilero is pictured here at 9 yrs old. He is a firey red and white with dark pigmentation
---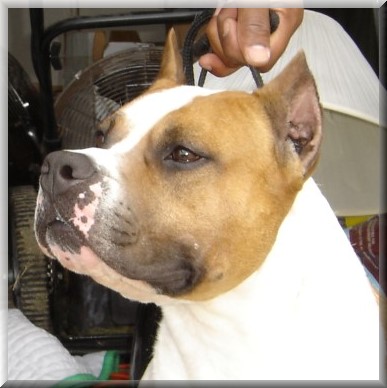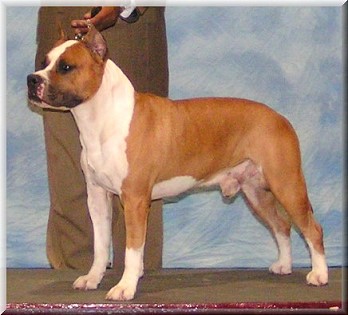 Ch. Jacques Blacktie Affair
*Magnum*
Magnum is another young male who earned his championship very quickly with all majors all owner handled. Magnum has a very sweet personality ,nice short back and is a very athletic dog. He is a very vivid red and white with good bone and substance and is a tremendous mover. Magnums first time in the breed ring as a move up he went BOB over a very large entry including several top ranked specials. Magnum then won a group 4 over many of the countries top terriers. In his first 3 weekends out as a special Magnum won 4 breed wins and 1 BOS as well as 2 group 4s. Magnum then went on to sweep the breed at the Tampa Bay Terrier specialty including a group 4. In total Magnum finished the 05 very strong winning the breed all three days at the last show of the year which gave him 8 consecutive breed wins. He also won the Terrier group and placed 3rd in the group that weekend. In fact Magnum finished the year ranked the number 7 Am Staff in the country in both systems after only 9 weekends of shows. Magnum will be selectively shown in 2006 .
---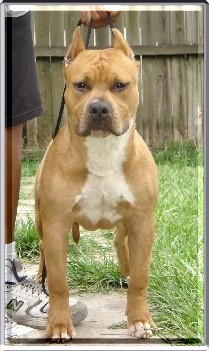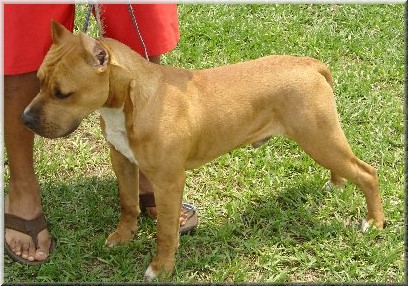 Blackties War Emblem
*Rocket*
---
Home // Our Foundation // The Boys //Beamer's Page // The Girls
News //For Sale // Breedings // Photo Gallery // Email!